CAR RIDER AFTERNOON


Please fill row A&B first and leave enough space at the front to get cars out. After A&B are full please turn into the circle drive and pull around and fill B up where we have B marked on the map. You will stay on the outside of the circle so we can still have a lane free.
When B is full in the circle please start filling up row C. When row C is full please turn and fill up row D&E. After D&E are full please stop where black line is on the map by rows D&E and fill up the rest of the parking lot where the X's are.
Please do not pull in where we have no cars marked on the map. This allows teachers and parents a lane to get out at the end of the day if needed. If the parking lot is full and you need to check a student out you can park up at the top of the parking lot where map says checkout parking.
We will dismiss rows A&B first. Then we will dismiss rows C,D,&E. After we dismiss C,D,&E we will fill up rows C,D,&E again until parking lot is not full and there is no need.
The busses will be loading and unloading over by the old football this year so there will be no walkers or car riders dropped off or picked up in that lot.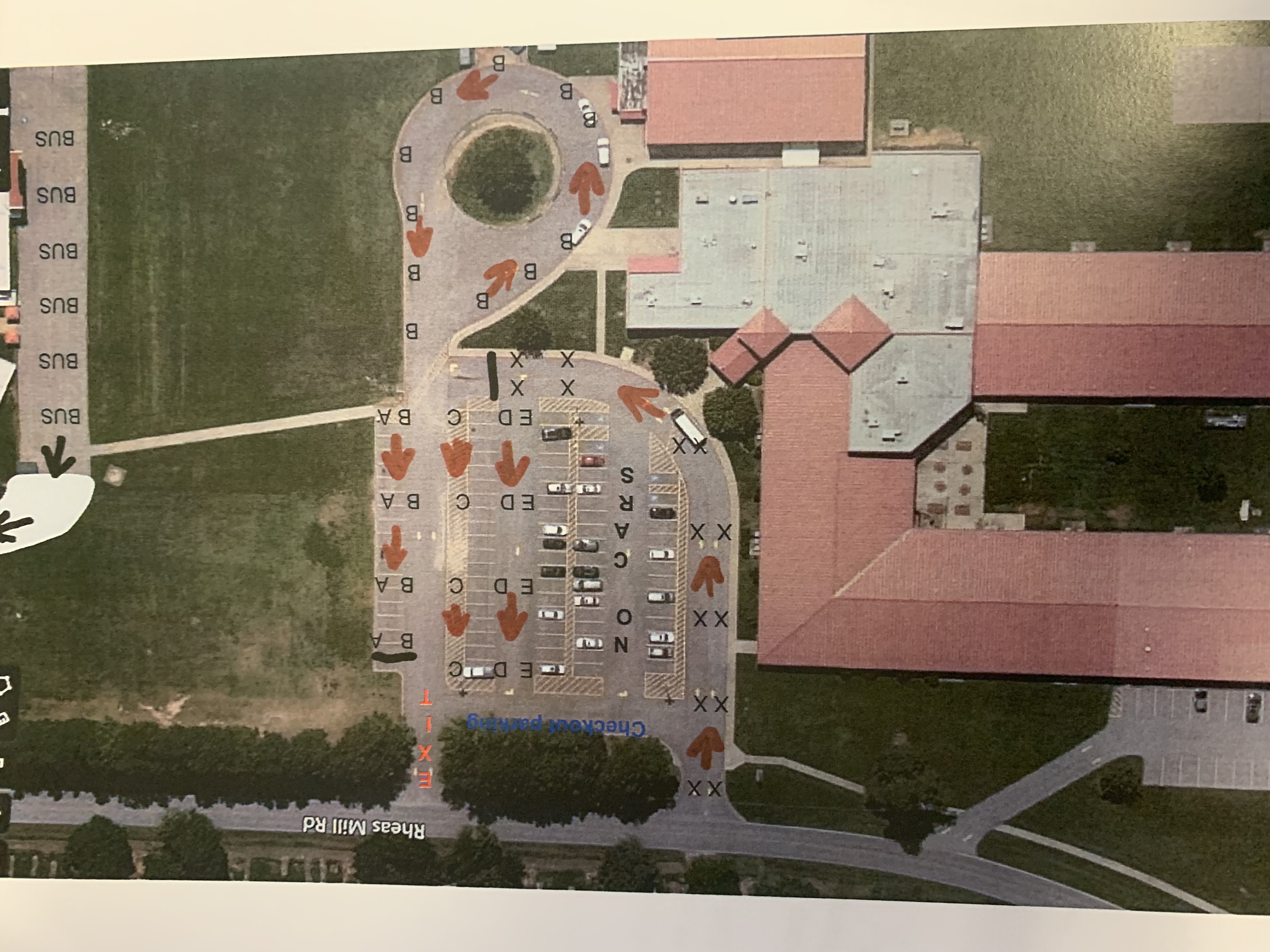 CAR RIDER MORNING
If you are dropping your child off in the morning please follow the red arrows on the map. We will open the doors at 7:20 a.m. Please drop your child off closer to 7:40 a.m. if possible.
Please do not drop your child off in the parking lot anywhere and do not turn in and go through the teacher only entrance. We do not have staff there to keep your child safe coming through the the parking lot.
We will have staff out front to help with drop off and let you know when to let your child out so we can keep your child safe.
You may turn right or left when leaving the school parking lot onto Rheas Mill Road. Please be courteous to each other in the line and as you exit.